The holiday season is a great time to begin practicing for this year's upcoming standardized practice tests that most students will be taking in the spring.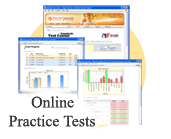 These tests are becoming ever more important as they are used as a basis for admission to some private schools and colleges, as well as used for evaluating the overall performance of student and school.
Many states have adopted a national test such as the ITBS (Iowa Test of Basic Skills) and the TerraNova test. Other states have a more custom test that they have their students complete such as California's STAR testing. Whichever version of the standardized practice tests your student is taking this spring, we have practice materials for you.
Please feel free to explore our BrightEducation.com website for the practice test package that best fits your needs and budget. We have several options starting at $29.97.